Creating Mosaics from Found Objects
The Pique Assiette ("Stolen Plate") Technique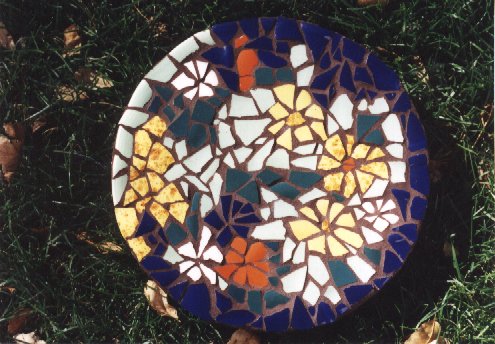 Introduction:
The minute I opened a book on mosaics, I knew I wanted to work in this medium. I am not an artist (being a scientist with an artistic soul), but something about the nature of mosaic work called to me. I can't draw well, but I do enjoy working with color, composition and texture, and mosaic art provides a good outlet for such studies.
The problem I faced was this: almost every project in the book I was reading called for beautiful, regular, vitreous glass tiles, or tesserae. As I searched for these supplies, I found they were not readily available (except in Rome it seems), and were also expensive. Out of desperation, I did my first project with the technique the book referred to as "Pique Assiette," which uses broken crockery in place of purchased tesserae. It turned out well and I found the technique fun, creative and inexpensive. I've been smashing mugs ever since!
I have taught this technique in local community education classes many times, and this website features information I've assembled for my students. I have included many details based on experience because I've learned what things cause problems to beginners.
Enjoy yourself. Almost anything you do will turn out looking great!
---
Supplies:
Mosaic pieces-Collect old plates, cups and mugs from garage sales and thrift shops. Pieces with graphics and lettering can be used–just look for a variety of bright colors. You can also use other 'found objects,' such as marbles, fake pearls, glass, shells, pebbles, etc., keeping in mind how the finished piece is going to be used. For example, exterior pieces need to be weatherproof, table tops need to be flat, etc. If you want flat pieces that are all the same thickness, buy new, discontinued or broken tiles at a tile store or home improvement store.
Base–cement paving stones, plates, vases, candlesticks, mirrors, picture frames, etc.
Should not be hurt by the moist adhesive and grout and must be sturdy enough to hold the weigh of ceramic, adhesive and grout. Wood needs to be finished and if intended for outdoor use, must be waterproofed (such as Marine grade plywood). Very shiny surfaces, such as glass, should be roughed up with sandpaper.
Round paving stones are available at building supply stores for about $2.38 each (if they have an aggregate surface, flip them over and use the other side). Terra cotta pieces (garden animals, etc.) are also easy to cover. Old vases can be obtained for $.50 or less at thrift stores. Your only concerns should be shape and type of surface–even the ugliest old plastic vase can look like a museum piece when it's been covered with colorful ceramic pieces. I have covered two old bowling balls to make unique "gazing balls" for the garden. People are very surprised when they try picking up the gazing ball and find it weighs 20 pounds!
Adhesive-look to match your base surface. I like a premixed mastic adhesive with a thick consistency which helps when using irregular pieces or curved bases.
Grout-comes in many colors–Dark grout better highlights the colors of the mosaic pieces. Sanded grout is better for large gaps but is rough. Unsanded grout (preferably with latex added) is much smoother and easier to work with on these projects.
Grout Sealer (if using finished product outside)
Tools-a putty knife for spreading adhesive, something to remove hardened adhesive, small rubber spatula for placing grout. You will need paper towels to clean and polish.
---
Technique:
1) Figure out a rough plan or drawing of what your finished piece should look like. Some hints:
Remember the elements of art: line, color, texture, light, mood, etc.
Don't try to make too exact a 'picture'–slightly abstract is not only cool, it's a necessity with this technique! Also, it's hard to make really straight lines, so avoid strictly geometric designs.
Consider appropriate themes for your work; e.g., garden paver/flowers, birds, etc.
Look everywhere for ideas to adapt to this medium–perhaps you might like the colors in a painting, the design on a plate, or the rose in a piece of fabric–use it to jumpstart your imagination.
Random placement of different colored pieces works well too, especially on small bases.
2) Pick out the pieces of crockery you are going to use. Set the cups/plates/whatever together to see how they look.
Make sure you have enough of each color to complete design.
Use contrasts–create areas of light and dark.
Aim toward approximate equal thickness of crockery.
3) Get out your hammer and smash the crockery pieces!
Be safe! Wear safety goggles and/or cover the pieces with a cloth when you are breaking them.
Keep the colors separated by placing the broken pieces in old plastic tubs, etc.
Generally, smaller bases look better with smaller pieces, and vice versa. You can always smash or nip the pieces further as you find the need.
4) 'Glue' the pieces on your surface
'Butter' the back of each piece with enough adhesive to keep it firmly in place on the surface without a lot oozing over the top because...
The neater you are with the adhesive, the less time spent cleaning up hardened mastic later.
Leave about 1/8"-1/4" between pieces for the grout (not more than1/8" if the finished piece is to be functional, such as a walkway).
Don't be afraid of a little texture (curved pieces from mugs, etc.) unless your finished product requires a totally flat surface (table top, floor, etc.). When using curved pieces, I prefer to place them so the convex side is showing; this places any potentially dangerous sharp edges down in the grout. You will need extra adhesive to fill in the hollow spaces under such pieces, so make sure to use enough or the piece will later come loose.
You don't have to complete mosaicing all in one session as long as you add the adhesive to each piece as you go along instead of spreading it out over the entire surface.
Be safe! Read the adhesive's warnings and use in a well ventilated area and/or wear a face mask.
5) Wait 24 hours for the adhesive to set up
You can't remove the adhesive when it is soft, but don't wait too long after the 24 hour period, or it will get harder to remove.
Remove all the excess adhesive on the tops and sides of pieces and between pieces if it comes up far enough to interfere with the grout. If you picture how the finished piece will look grouted, it will help you envision how much adhesive you have to remove. This job is tedious; hence the above-mentioned warning to be as neat as possible when initially placing the pieces.
6) Grout
Be safe! Grout is hard on hands and it helps to wear gloves. Read the other warnings on the product you have purchased.
Consider various colors of grout, because whatever color you chose is going to have a big impact on the finished look. Gray looks natural for outdoor projects and also provides a somewhat neutral background to show off your pattern. Look at your work to decide--if it has a lot of dark pieces, these will blend in with a dark grout and you may want to use a lighter gray for contrast; conversely, black or other dark colored grout will create a dramatic effect when used with brightly colored pieces. Even though we are accustomed to white grout in our homes, white tends to make the pieces of a mosaic look blah.
You can add acrylic paint to white grout to make any color your heart desires, or your piece requires! Think unusual, like bright blue, hot pink or yellow.
If you are later going to be painting the joints (see Step 7), use a light, neutral color.
Mix up the grout powder with water according to the instructions. It should be smooth and quite thick. Let it sit ("slake") for 10 minutes before using. Then work quickly, using a small rubber spatula to push the grout in all the joints, smoothing over each piece. You will end up with some grout over your pieces–this is necessary, but try not to leave too much excess or it will take longer to set up and be hard to remove.
If you have pieces of varying thickness (and you will), make sure the grout extends up to the edges of each piece.
Wait 30-40 minutes.
Start removing the grout with good quality paper towels (like "Viva" brand). Keep rubbing across the surface, cleaning the surface of the tiles while leaving the grout in the joints. This is not a quick job, but it is fun as you see your pieces re-emerge, shining like jewels. If you end up with some grout hardened on the surface of your pieces, use a small metal instrument to scrape it off.
7) Wait at least 24 hours
If your finished work of art is to be used outdoors, paint a grout sealer in the joints to protect it from weather. After sealing, wipe off the pieces to remove any haze.
If your work is to be used indoor, no protection is necessary. You may want to paint the grout with a glossy paint to make the surface look more finished. You can use this technique with gold or silver glossy paint to give the illusion of an old or valuable piece. Painting the joints is time-consuming and requires a steady hand, but it is a nice touch for items that will be seen close-up like vases or candlesticks.
---
Resources:
There are many new mosaic books on the market. All have good ideas, but many are somewhat limited, in that they feature a number of 'craft' projects with detailed instructions on how to replicate them. I prefer books with lots of projects by artists: here are three inspiring ones:
Making Mosaics by Leslie Dierks, Sterling Publishing Company, Inc., 1997
Probably the most well-balanced book I've seen, teaching both traditional and pique assiette techniques. There are many pictures of unusual pieces created by mosaic artists around the world. Most of the actual projects provided with instructions, however, require traditional small glass tesserae.
Mosaics by Kaffe Fassett and Candace Bahouth, The Taunton Press, 1999
Both authors are noted for eclectic and extravagant works of art in many mediums. This book is a treasure chest of ideas, and focuses exclusively on the pique assiette technique, using such found objects as shells and stones in addition to all kinds of crockery, tiles, mirrors and beads. The choice of grout colors will destroy your old preconceptions of the purpose of grout! The book also contains a fascinating section of photographs of mosaic gardens, houses, chapels, fountains, etc. built by professional and amateur artists around the world as labors of love.
The Mosaic Book by Peggy Vance and Cecia Goodrick Clarke, Trafalger Square Publishing, 1994
This book contains instructions for traditional, pique assiette, and even cobblestone and pebble mosaics. There are many richly colored and textured designs, especially for the garden area.
---
View Examples of My Work: (please keep in mind that the colors are not necessarily accurately represented)
---
Please keep in mind that this site is intended to discuss the pique assiette technique only. If you are interested in learning more about traditional mosaic technique using regular tesserae of any type, there are many books which can help you (including Making Mosaics and The Mosaic Book mentioned in the "Resources" section).
Have fun creating beautiful and functional MOSAIC art!
Teresa Anderson, St. Paul, Minnesota, April 2000