MrKlingon's Mercury Redstone Simulator
WAY too simple a model. Kind of a model rocket, going straight up, till it starts falling back to earth. (I am working on a more complex version, with throttle and pitch angle controls).
You can set the thrust, weight full and weight empty. All in pounds.
Set the time of burn in seconds. (this is how long the engine will burn at 100% throttle)
Drag coefficient is part of a really rough attempt to add in drag.
You can set the percentage (0-100) of thrust.
Press "FLY" to run, then "STOP" to stop.
The Speed button displays the mode it is running in, either real time or high speed.
The flight will stop when the velocity reaches 0 or less.
Click on the Mercury capsule (on right) to see maximum acceleration, altitude (feet and miles) and velocity (fps and mps).
For fun, there is a digital display of the current time at the top.
Double clicking on the screen resets to default parameters (real for the Mercury Redstone).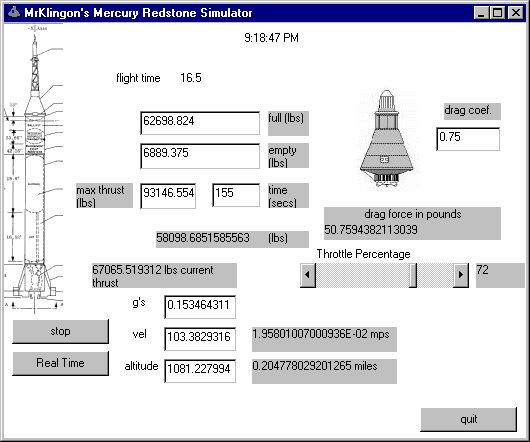 click to download
For serious references: http://www.astronautix.com/ (where I borrowed the nice image of the Mercury capsule).